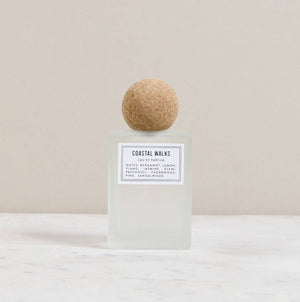 Parfum Coastal Walks 50ml
A must have!!!
This unisex scent captures the essence of the Norfolk coastline, evoking memories of invigorating coastal walks and the misty spray of the North Sea. 
Use as an integral part of your daily self-care routine, this fragrance allows you to fully embrace each day without saving it just for special occasions.
Expertly chosen by aromatherapist Claire, this luxurious and uplifting scent is now available for guests at The Beauty Emporium to enjoy. It has quickly become a popular choice, perfect for indulging in some much-needed self-love.
Experience the pure essence of nature with our handmade in England, unisex fragrance - crafted with natural scents, not synthetic.
Not only is this fragrance ideal for personal use, but it also makes the ultimate gift for loved ones. Available in a range of products, including our double-wicked candle and natural hand wash, this unisex scent is a must-try.
Once you experience it, you'll never forget it - this scent lingers long after application, making just a spritz all you need to enjoy its beautiful aroma.
"Floral Notes: Bergamot, Lemon, Ylang, Jasmine, Cistus Ladaniferus absolute, Pine Needle Patchouli, Elemi, Cedarwood, Sandalwood Lost between the pine-filled trees, the musky rich Patchouli and Pine notes fill my senses…
Sunlight beams through the branches, and the vista of sylvan charm opens out onto dew-soaked sand dunes - there is a sense of just fallen rain. Deep breaths of sea air buoy the spirit, both fresh and musky - the intrepid journeyman is ready for adventure..
Unisex Parfum - Handmade in their Perfumery - Norfolk."