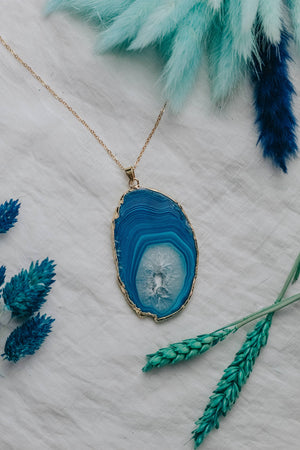 Gold Tone & Blue Agate Crystal Long Length Necklace
This necklace is made from blue agate and is hand finished with gold edges.
Each piece is totally unique.
During the making process, the crystals are smoothed before being sealed with gold paint, creating a flat surface, allowing them to be worn with no jagged edges.
The sizes and shapes range from medium to large (as pictured) and we guarantee that each piece will be entirely individual for you!
No two pieces of this gorgeous necklace will ever be the same.
Agate stone is said to be used to improve concentration and enhance perception.
It's a soothing and calming gemstone that can also be used to heal inner anger and anxiety and helps to strengthen relationships.
Measures approx.: Chain 68cm, pendant approx. 5cm*3cm
Made from: Blue agate, plated metal alloy