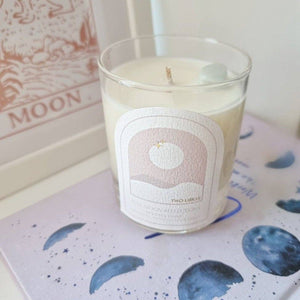 Full Moon Crystal Intention Candle
The Full Moon is the moment for reflection, reward and change. 
It's the time for you to reflect on your goals, acknowledge what you have achieved and let go of anything that no longer serves you.
This 100% Soy Crystal Intention Candle has been hand poured in Oxfordshire and is infused with a welcoming, heartwarming vanilla scent.
Set your intention, light your candle and let the flames radiate your aspirations around your room. Moonstone Intuition, Creativity, ChangeMoonstone is associated with the moon and feminine energies. Ignoring your need to rest & recharge will leave you feeling burnt out.
Moonstone encourages you to acknowledge what you need in order to feel supported, so you can feel creative and inspired.
Burn time – 40 hours (approx.) 180ml Comes with one tumble stone crystal cleansed and charged on White Horse Hill. Vegan Friendly + Cruelty-Free Paraffin and Phthalate free Presented in a box, perfect for gifting Hand Poured in Oxfordshire.