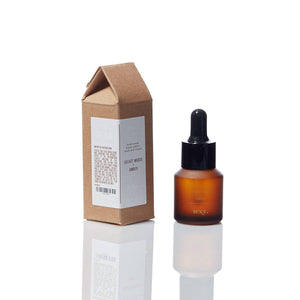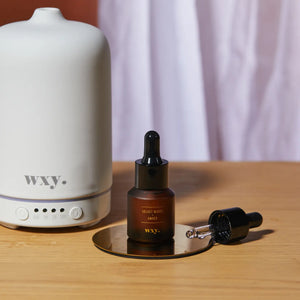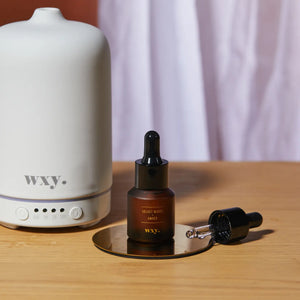 Fragrance Oil - velvet woods + amber
WXY.  Fragrance oil - Velvet Woods + Amber
Introducing our Big Amber Fragrance Oil, part of our special range of elemental scents inspired by the beauty of the natural world. Now you can enjoy your favourite fragrance in the form of an oil, perfect for adding a touch of luxury to your home.
With top notes of downy amber, citrus, and ferns, middle notes of fresh woods and rose, and bottom notes of musk and mosses, this fragrance oil creates a perfectly balanced aroma that will transport you to a peaceful forest retreat.
Our community cannot get enough of the Big Amber Fragrance Oil, with many saying the scent reminds them of cosyness. The combination of herbal ferns and velvet woods gives a musky yet refreshing fragrance that you won't be able to resist.
To immerse your home in this beautiful scent, simply add 3-8 drops of the Big Amber Fragrance Oil to your electronic diffuser as desired. The timeless scent of velvet woods and amber will fill your home, creating a warm and inviting atmosphere you'll love coming back to.
Experience the ultimate indulgence with our Big Amber Fragrance Oil. Shop our full range of elemental scents today and discover the power of nature in your home.
 All WXY. Products are made in the UK using 100% plant-based wax, luxury fragrances, and recyclable and reusable materials. No palm, no parabens, no plastics
Why do we love this women-owned UK brand so much?
Here's why: They are ethical and based in the rural county of Cheshire.
The majority of their materials come from within a 30-mile radius. Their small team is inspired by minimalist design, architecture, enduring style and simple living. They don't go in for fast fashion and over-engineered packaging; instead, they make beautiful products to fit into any interior and let the scents do the talking.
They created their scents to evoke a mood, vibe, and time of day as they, like us, feel that scent should transcend ideas of gender and season and simply just make you feel good. 
100% plant-based wax candles, paraben-free fragrance oils.
Since its launch in early 2019, they have grown and supplied many independent retailers across the UK and parts of Europe.
 WXY. donates 3% of profits with every product sold to MIND charity