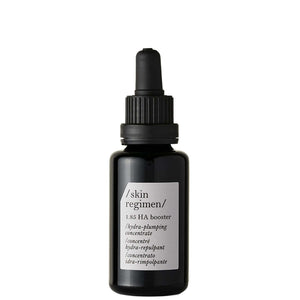 / Skin regimen / 1.85 H A Booster 25ml
Recharge your complexion with the Skin Regimen HA Booster. This hyper hydrating formula combines three forms of Hyaluronic Acid to penetrate and moisturise the skin at every depth and level. The different forms of the acid, Micro, Macro and Cross-Linked, form a powerful seal to draw and lock moisture into the skin, keeping your complexion hydrated for longer. This works to plump the surface, targeting dry skin to smooth out any fine lines or wrinkles. Lightweight and quickly absorbed, the serum deeply penetrates the pores, using a Longevity Complex to prolong hydration. Transform skin from dry and dull to dewy and radiant with this innovative serum.
Free from silicones.
Free from synthetic fragrance.
99.2% natural-origin ingredients.