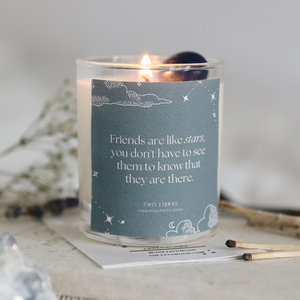 Lapis Lazuli Friendship Crystal Intention Candle - Supporting RSPCA Derby
"Friends are like stars, you don't have to see them to know they are there".
This 100% Soy Crystal Intention Candle has been hand poured in Oxfordshire and is infused with a juicy Damson plum rose and patchouli fragrance.
A limited edition candle in support of RSPCA Derby.
Earlier this year, those at Two Libras adopted a new best friend, Basil.
After visiting the rehoming centre, we were overwhelmed by the amazing work the charity and the staff do, we wanted to say thank you. £2 from every candle sale will be donated to RSPCA Derby.
We at The Beauty Emporium love their story :))
Lapis Lazuli Communication, Intuition and Connection Lapis Lazuli invite us to grow our own self-awareness and to connect and communicate deeply with others.