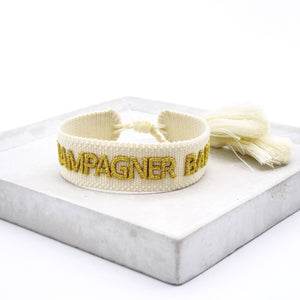 CHAMPAGNER BABY Statement Armband gewebt, bestickt
Statement message bracelet in boho style Comfortable and soft on the wrist, this casual statement bracelet will sell out quickly.
The perfect gift for your crew, besties, and loved ones.
 Bracelet: ecru Text: Gold
ONE SIZE Size adjustable - the size is adjusted using the cords (sliding knots).
Approx. 15.5-23.5 cm Height: approx. 19 mm MATERIAL 100% polyester, washable Firmly woven and embroidered.
DAILY REMINDER "CHAMPAGNE BABY"