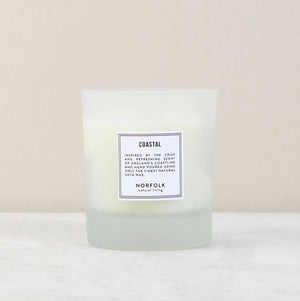 Candle - Coastal - 8oz
Strike a match and light this candle, then step back and enjoy the sea salt scent inspired by the bracing coastal walks of my childhood.
Your sea salt-scented candle is made with natural wax. It is poured by hand in our workshop amongst the sprawling fields of the English countryside.  
Enjoy it for up to 50 hours, then re-use its glass jar to store trinkets or seeds for your own garden.
Our guests adore this unisex fragrance, and it is also available in many other items, such as pure perfume fragrances, linen sprays and hand products.