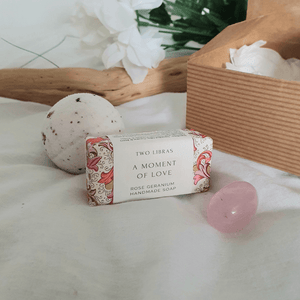 A Moment of Love - Rose Quartz Mini Bath Bomb Gift Set
The perfect self-treat or gift - take a moment and relax with our mini bath bomb, soap and crystal sets. 
This set has been infused with a floral blend of luxurious Rose Geranium oil with Petitgrain and Vetiver for an aromatic bath experience that evokes summer romance.
Rose Quartz To embrace and love your true self...
Rose Quartz is like a huge hug. It'll ground you and slow everything down, helping you mellow out and be kind and compassionate to yourself.
This stone helps you stay in the present moment, your worries fading away.
Rose Geranium Mini Bath Bomb - Lovingly handmade by our partners in Cornwall
Rose Geranium Mini Soap - Lovingly handmade by our partners in Cornwall Rose
Quartz Tumble Stone and Info card
Soap Ingredients: Ingredients: Saponified Olive Oil, Coconut Oil and Sustainably sourced Palm Oil, Rose Geranium, Petitgrain & Vetiver Essential oils (naturally occurring allergens present in these oils: Geraniol, Citral, Linalool, Citronellol, Limonene).