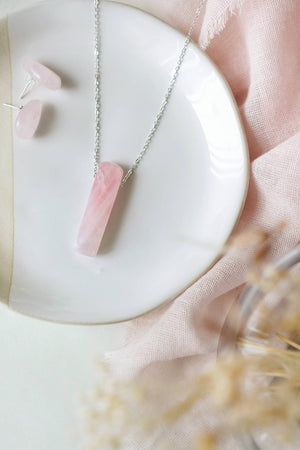 925 Sterling Silver & Rose Quartz Pendant Necklace
On a 925-sterling silver chain, this necklace features a single Rose Quartz crystal pendant in a natural shape.
Delicate in design, it's the perfect go-to, easy-to-wear accessory.
Each piece may vary slightly in size, although they are all roughly the same.
Rose Quartz crystal restores trust and harmony in relationships encouraging unconditional love.
Fall in love with this necklace as each piece is lovingly hand-made in limited quantities.
Made from: 925 sterling silver, rose quartz Chain measures approx..: 42cm, pendant approx 3.5cm (average)