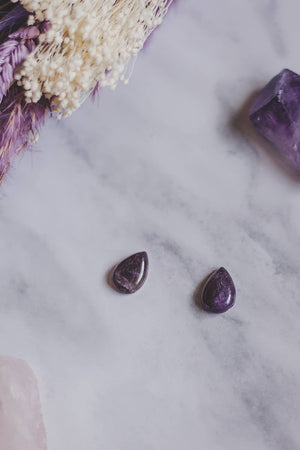 925 Sterling Silver & Amethyst Rain Drop Stud Earrings
Inspired by rain, these stud earrings are made from Amethyst crystal and are cut in a classic tear shape.
They are the perfect go-to, easy to wear, daytime accessory.
The stud earrings are made using 925 Sterling Silver ear posts and matching 925 Sterling Silver butterfly backs to close. Amethyst is known for its calming and relaxing effects, making it an excellent crystal for meditation and stress relief. 
It relieves stress and strain, soothes irritability, balances mood swings, dispels anger, rage, fear and anxiety.
Fall in love with these earrings as each piece is lovingly hand-made in limited quantities.